A local resident, who wishes to remain anonymous, has chosen to donate $75,000 to the Capital Campaign for the proposed new medical clinic. Asked what prompted this generous gift, the donor responded with a two-part answer. One factor was the individual's desire to see Alma grow in the future; not just maintain, but grow! They feel that a modern medical facility is an important part of a thriving community. Related to that was the feeling that this entire community had been good to the donor, and it was an appropriate way to give something back. Noting that it can be difficult to write one large check, the donor found a unique method to be both generous and practical. Purchasing a pre-paid life insurance policy and designating the Capital Campaign as beneficiary fit this giver's personal circumstances.
In addition to the large donations that I have been writing about, I want to let everyone know how much I appreciate the individual contributions that we are receiving from our employees and community members. We have also been receiving individual donations and pledges from many community members and I am very thankful for all the work that is being done both by the Foundation Board, by Kendra, by our employees and volunteers to convince community members that a new clinic for Alma is a worthwhile cause. Currently the total of pledges and donations is $ 527,124.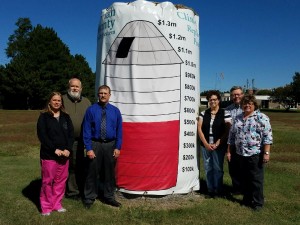 Left to right: Foundation Board Members Shannon Lynch, Pastor Paul Ferrarone, Jon Davis, Becky McKenzie, Bob Taylor and Foundation Director Kendra Graf. Not pictured are Board members Patrick Calkins, Jennifer Luther, Mildred Calkins and  Jaclyn Daake.